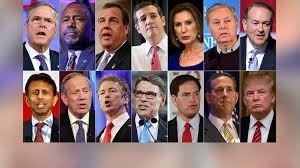 What the Republican strategy ought to be, and who is electable in the big race–waaaaaaaaaaaaaay more important than who is ahead in the primaries. A unique view of each candidate–and what should be the Republican Team, rather than the Republican Candidate. It is all about the most conservative person–and the team around them–that CAN be elected, everything else is nonsense. Hillary as the Dem Nominee?  Don't count on it–Barry and crew have skullduggery afoot, using the FBI, no less. China's "booming economy? The real stats the commie government in Beijing can't hide–get ready for a financial tsunami from Asia one of these days. And a scary alert on Obama's latest underhanded, illegal attack on guns, gun owners and ammo makers. Stand up and shout!
Part 1
Part 2
---
ObamaCare

Domestic Matters and Politics

International

Family Safety

Ideology

Women and Family Issues

Constitutional Matters

Military

Terror

Budget, Economy and Finance

Energy and Employment

Gun Control

Voter Fraud

Immigration

Scandal

Hillary Clinton

Fun Stuff
Audios are restricted to registered members. If you are an existing user, please login. New users may register below.