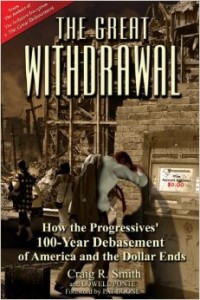 Obamacare is a dismal failure–one that could not have been voted in, nor supported by many for so long without the fraud and lies of its proponents, starting with Obama. It is all part of the progressive mantra. Reid and Craig Smith, author of The Great Withdrawal – How the Progressives' 100-year Debasement of America and the Dollar Ends, for a riveting discussion on the history, failures, subterfuge, goals and outcomes (if not stopped) of progressivism (communism) in the United States. Are liberals progressives? Most are not. But the hardcore left is and the liberals go blindly along for altruistic reasons. Beginning with Woodrow Wilson, then FDR, then Johnson, Carter and now a Obama–and oh, by the way, there are some republicans in there that accelerated this transformation of America that we all KNOW is neither good, nor will it end well. These are little known facts, figures, and truths about other great failed progressive states–Mao, Hitler, and more. The MO is always the same. And they all start soft–the warm fuzzy words that draw you in but mask the sinister intent–and then, when power grows, comes the hard sell, the control, the redistribution–NSA, IRS, coercion of business, and control of the citizens. The pattern has not differed for 5,000 years–and neither has the outcome. Ever. And Craig and his publishers are giving away–that is right, FREE, not even shipping costs—his book The Great Withdrawal – How the Progressives' 100-year Debasement of America and the Dollar Ends with easy dial in instructions. Tune in on facts you need to know–for you, your family and your country–get Craig's free book just for listeners of On the Right Side, read it, pass it on. Be informed. It is the first step in the battle for America's soul and your kid's future. We still have time, but the sun is past its zenith and daylight's wastin'.
[ca_audio url_mp3="http://ontherightsideradio.com/wp-content/uploads/2013/11/Craig-Smith-Interview.mp3″ url_ogg="" skin="regular" align="none"]
Want to get Craig's book FREE?
Call 1-800-630-1494
Tell them you heard it on On the Right Side with Reid Lance Rosenthal
---
Important Articles to Read: